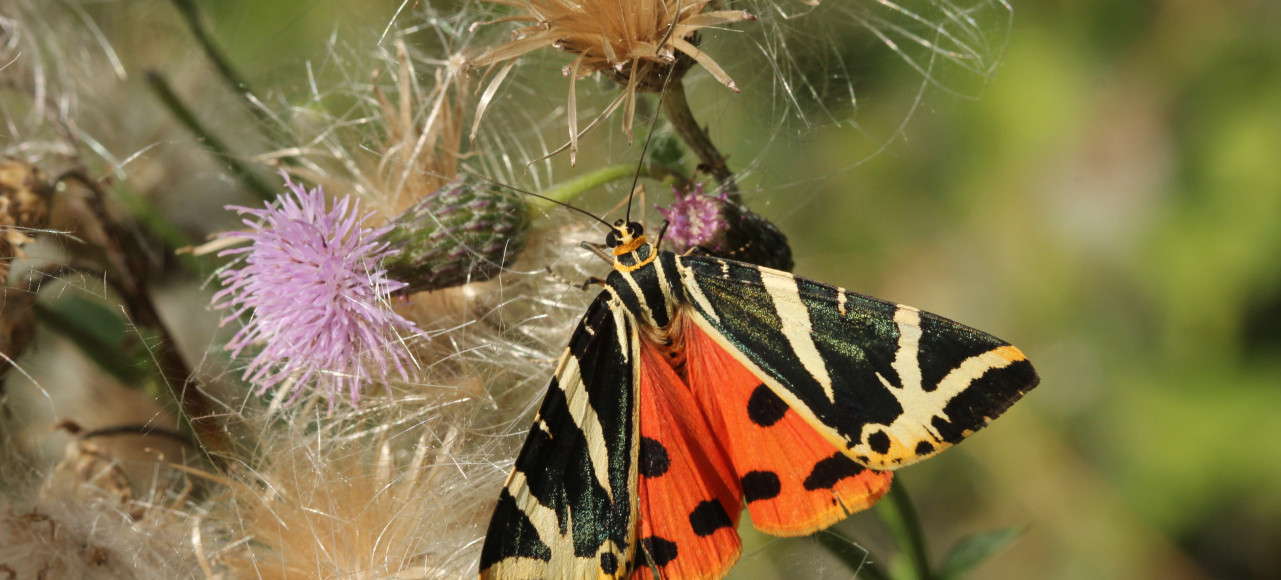 Jersey tiger
(Euplagia quadripunctaria)The beautifully coloured Jersey tiger inhabits warm rocky forest-steppe areas. Adult individuals of this rare day-flying moth species can be seen from late June to early September sitting on nectar plants. Its caterpillars often live on various herb and tree species.
More photos
Enter to Findings Database (NDOP)
Its distinctive appearance leaves no doubt about its uniqueness. Most often, the Jersey tiger can be found on warmer forest-steppe areas where it attracts the visitor's eye by the contrasting colour combination of its wings. While the upper, black-green wings are interwoven with whitish or yellowish stripes, the lower wings are a shade of bright orange to red. Its rear is also orange, decorated with a row of black dots. Nature impressively coloured its caterpillars as well. Their back is black-brown with a yellow stripe and tiny white dots. Their belly is yellow-brown. The caterpillars hatch in autumn and are quite tiny. At the beginning of their life they consume herbs, and after wintering they are ready to eat the leaves of trees and shrubs.
In July and August, we can spot adult Jersey tigers both by day and at night, sucking nectar from the yellow flowers of ragwort, as well as hemp agrimony, thistles, and other pink and violet flowering plants.
In the Czech Republic, the jersey tiger inhabits a number of sites in lower and middle parts of warmer areas. In České středohoří, it thrives mainly at Radobýl, Lovoš, Bílé stráně near Litoměřice, but also on Porta Bohemica sites. It can also be spotted at Milešovka and Lounské středohoří.
Threats
The Jersey tiger is threatened both by over-intensive farming and the complete absence of landscape management, which is characterized by the overgrowth of open habitats with self-seeding woody plants. It requires proportional grazing and mowing. It is sensitive to the cutting of edge habitats and drying of the sites where it lives.
Protective measures
Gentle care of forest-steppe habitats, the Jersey tiger's environment, is the most important prerequisite for its reproduction. Traditional farming, clearing of self-seeding woody plants, and mowing grass in a mosaic pattern are the measures which help it to thrive.